Sooner or later you will see signs wear or damage to your upholster as neither the vinyl nor the canvas sections of the upholstery are thick enough to endure long term usage without either chafing or ripping in pressure spots. To repair the damaged areas you can visit your local part store where you will most likely find a variety of upholstery fix-it-yourself kits to choose from. The picture below shows a 2-inch tear on the left upper edge of the passenger seats. It is an unpleasant sight and at first looks challenging to fix.

You can use liquid fix-it material or borrow some excess/matching vinyl material from under the driver seat (also found under the front passenger seat) to make a professional patch avoiding all signs of after-repair creases. Instead you will end with a clear separation of the old and new vinyl which looks intentional and factory-made in some ways. Chafed areas due to normal wear or abuse may be fixed by using color matched paint. Your local parts shop will most likely have alternative remedies for this as well.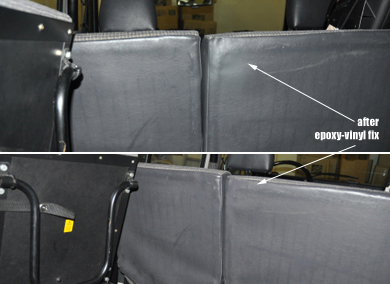 Regardless of the size of the tear or the type of damage (holes, tears, chafing, etc.), it is always suggested to look around and ask questions from local and online experts before you start fixing the damaged area. When in doubt, rest assured, a tear in the vinyl looks much better than a sloppy fix.