The Defender 110 NAS 1993 comes with stock roll cage and roof rack. The package is usually painted black or alpine white matching body color. The stock rack is modular and may be taken apart in a couple of hours.
The stock Defender rack seems to have been built for the primary purpose of holding cargo such as gas cans, carrying cases, spare tires, etc. The stock rack does not seem to support any manufacturer or third party roof tent as is. The roll cage is quite robust and built to protect passengers against roll-overs.
The stock roll cage not only sets the Defender aesthetically apart, it actually protects the frame and body from severe damage in the event of mild roll-overs. It is bolted onto the body and supported by structural walls. You might have already seen 110s (on youtube and so on) roll over and later simply winched back on all four without any frame damage whatsoever. And the driver takes off. No myths there.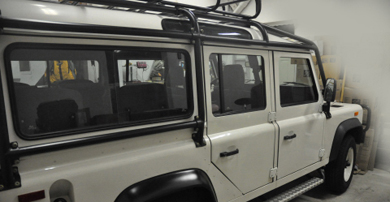 The area where the roll cage attaches to the body is prone to accumulate corrosion and rust. To keep the areas as rust-free as possible wipe the area clean after heavy exposure to water.
The missing accessory that I think each 110 should have included stock is a roof tent. With a stock roof tent, the stock roof rack would have been designed to support roof tents, such as those pictured here by EEZI-Awn.
Most third party roof tents today include either fiber glass or aluminum flooring, and they are either removable or integrated with the roof. Regardless of which option you choose, all Defender compatible roof tents are easy to deploy and take just a few steps to provide on-demand sleeping for one to six people.
Professional installation is required for integrated roof tents such as the one shown above. All other options, such as those provided by EEZI-Awn, may be installed by anyone.
Stock Roof Rack: The NAS 110 stock roof rack is mounted on to the roll cage, which mounts on to structural points around the body. The roll cage is strong enough to provide significant protection against roll overs but modestly rated at 200 LBS payload capacity by the manufacturer. Which is perhaps why there aren't any ready-to-install roof tents made for the stock rack.