The Defender's chassis is its frame which holds all of its main components together--the engine (including transfer case and gearbox), bulkhead, body, fuel tank, suspension, and so on. It is treated metal, built, and conditioned to last a long time or at least twenty years under normal circumstances. That said, the Defender is an extraordinary utility vehicle designed to submerge in deep pools of water, to drive in harsh environments, and to be put under excessive stress and weather conditions. Consequently, a rusted or damaged frame is inevitable.
A damaged or rusted chassis will hinder the performance of the Defender and its components. It will maximize wear in damaged stress areas and get worse as time goes by if left untreated. Stress plates and welded body parts/mounts may be cut and new pieces rewelded while adhering to the manufacturer's original standards. Rust areas may be scraped, sanded, and treated accordingly. A variety of undercoating solutions exist to protect, maintain, and prolong the life of your stock chassis.
When do I know it's time for a Frame Swap? In general, the chassis of a NAS Defender, if maintained and treated in a timely manner, could last a lifetime. When not maintained properly, however, deep rust pockets form in underbody crevices, destroy welded frame mounts, flake off as thick pieces of rusted metal, and result in one extra noisy ride. When the damage is too bad to consider chassis repair, it is time to consider a frame swap. A frame swap consists of detaching and lifting the Defender from its chassis so that a new frame can be put in its place. While swapping the frame is a somewhat labor intensive project, there are a small number of frame swap experts that can do the job using special rigs to help remove the body from the frame with minimal disassembly, saving hundreds of hours of labor. You can visit ERC (Defender specialist on the east coast) or West Coast Rovers or ship your Defender to them for a frame swap. It is not necessary to have a high lift in your garage to swap a frame, which makes frame swapping suitable for serious do-it-yourselfers.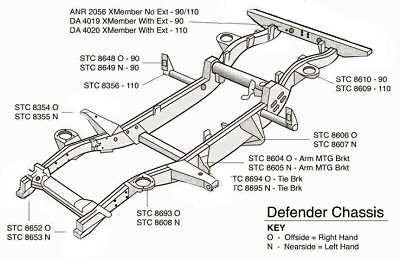 What's a galvanized chassis? Insulate a metal chassis with waterproof foaming or simply submerge the bare chassis into a hot zinc bath, pull it out, spray or use a flap disc to get rid of excess galv, and voila, you have yourself one galvanized chassis, rust-free for life. Galvanized chassis manufacturers use a variety of high-end equipment, tools, and processes to fabricate a heavy duty, high tolerance, laser cut precision chassis. Holes are re-drilled, excess residues removed, and the chassis prepared after galvanization so that all the end user needs to do is fit the chassis when it arrives.
Stock or galvanized chassis? While the stock chassis will hold its own for a long time, it is wise for relatively minor extra cost to consider using a galvanized chassis. A professionally galvanized chassis will not rust. Note: Replacing your NAS 110's chassis with a professionally galvanized chassis does not affect your vehicle registration and status.