When it comes to selecting the right restraint/protective harness for your NAS Defender's rear side-facing seats, there are a number of manufacturers offering DOT certified solutions consisting of anywhere from two point lap belts to 5 point harness belts. With a bit of creativity and careful modifications to your Defender, you can accommodate any of the solutions available. Shown below, lap belts installed, bolted to internal roll cage tubing (with existing threaded fixture) in between seats and to existing structural mounts on the opposite sides.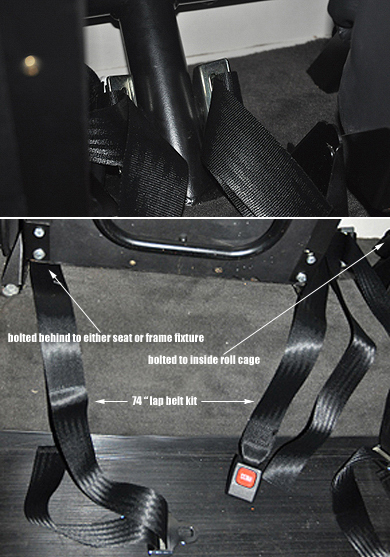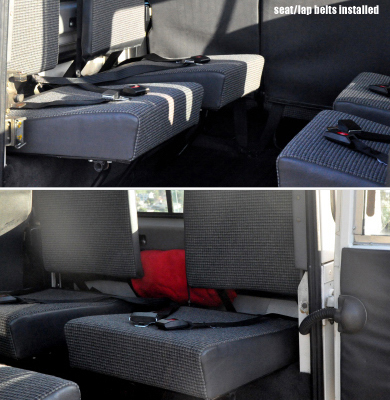 A five point racing harness installation in a Defender will require beyond average skills combined with some very invasive and labor intensive work. A DOT certified two point lap belt was the intended solution for the rear side-facing seats by the manufacturer.
While lap belts do provide adequate protection, the nature of side-facing seats and passenger proximity prevents side-facing seats from assuring the same level of safety as front facing seats. If you have to have your passenger in this area glued in place, use a five point racing belt and let a professional do the work. Always consider insurance factors before drilling holes or planning severe modifications to your Defender. Make sure your insurance will cover you if you do modify your vehicle.
State of California: It is against the law to drive on public roads without seat belts. For rules and regulations in your state, visit your local DMV or check with the Department of Transportation. For additional instructions regarding seat belt and lap belt installation, visit forums such as LRO, where you will find an abundance of useful tips and DIY help. It's best to register in order to benefit from the entire spectrum of features at this forum.