What accessories can I add to my Defender? Options are many and the choice depends on your specific needs. There are a few things that I found missing in the stock NAS 93 Defender 110 vehicles: a cup holder, second passenger and rear auxiliary power sources, and, of course, ipod connection to stock radio.
An entertainment console maybe installed, replacing stock headrests or embedded into the center console. Unfortunately, both these options require invasive alterations to your stock Defender. A good solution for this is to build a DIY entertainment center that does not bolt onto the interior of the Defender if possible. If you plan to add a DVD player for a child and are not satisfied with either head rest strap-on aesthetics or invasive alterations, then you may consider altering the child seat instead to create one self-contained media center altogether.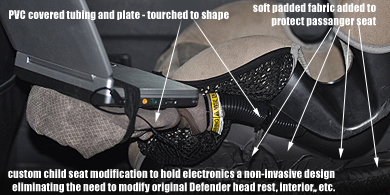 An interesting side feature is that now you are able to simply move the seat to another vehicle and the media center moves with it. That said, proceed with caution to make sure that alterations made to the child seat do not compromise the structural strength and rigidity of the seat. Do not drill or add attachments to structural areas. Do not install console, arm, or mount facing the child seat. Do not do this at home if you are not sure what you are doing. Any negligence here may severely compromise your child's safety.
The stock center console has a rectangular open box which cannot secure a cup while traveling. Shown below, cup holder is attached to center console using industrial double-sided tape (or two small screws) capable of handling normal size drinks. Options are many when it comes to installing cup holders in your Defender. The spot shown below is within reach of both the middle row passengers and the front row passenger and driver.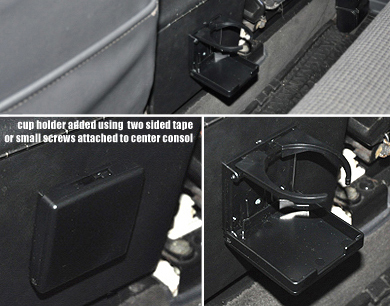 Visit your local parts shop or ebay and you will find an abundance of non-invasive solutions for connecting your portable ipod to your stock Defender radio. The wireless iphone transmitter below, connects directly to the cigarette receptacle on the front dashboard, locks onto to a user-selected FM channel, and broadcasts your mp3 music through the radio. The quality of sound is mostly limited to the quality of the broadcasting radio in the vehicle.c
Improving the sound system on a stock NAS 93 Defender? Frankly, the best way to do this is to gut everything, insulate, and start new. Mind you, doing so defies stock status to begin with and therefore depreciate the value of your collectible Defender despite the improved quality of sound. The least invasive method of improving the stock sound system, a popular upgrade, is to upgrade existing speakers and to add two front speakers to the front door panels. Again, adding speakers will require extra holes and therefore stock status is compromised for those who care.