The main fuse box in the NAS Defender 110 is located below the center dash in front of the shift lever. To access the fuses, remove fuse box cover by simply unscrewing the two 1" round plastic screw knobs.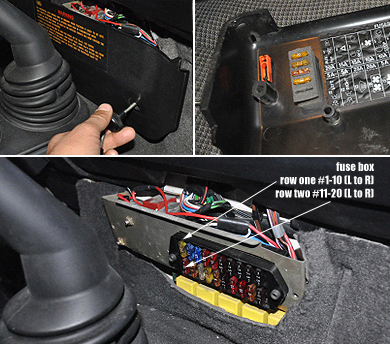 Shown above, fuses and relays are exposed once the fuse box cover is removed. The yellow row of boxes and compartment behind the fuse holder assembly comprises of relays, connectors, and wires as shown. Before you replace or diagnose any failed electrical component, inspect the corresponding circuit fuse. Very often doing so will result in a simpler fix than previously imagined.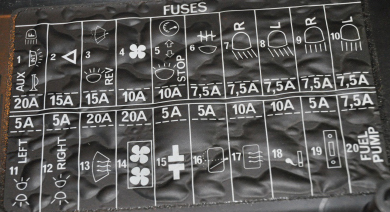 Inside the fuse cover (shown above) you will find one removable fuse-removal tool, five spare fuses, and a diagram describing fuse capacity and the location for each device.

You will also find one additional, smaller fusebox located under the hood on the driver's side. These are large fuses. When pressure washing the engine compartment take special care to cover this box with a plastic bag.