When pressure washing the engine or underbody of your NAS Defender 110, pay special attention not to wash cavities that are prone to rusting. Cavities that do not have an outlet should be washed and cleaned by hand, using none corrosive liquids to avoid trapping water in underbody areas.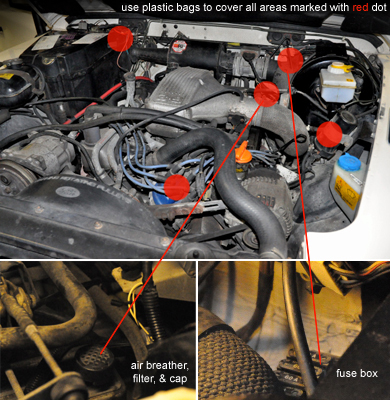 Prepare ahead and keep pressurized water away from entering cavities under the body or damaging components under the hood. Simply use plastic bags to block water penetration over and around these areas. Do not aim the pressure nozzle directly on to sensors, wires, or electric connectors when washing the underbody. Securely position plastic pegs over the distributor cap, fuse box, air breather, all sensitive wires, and connectors under the hood as shown above. Keep the pressured water nozzle at a safe distance from these sensitive components. For exposed surfaces and safe areas apply nozzle directly to area as needed to wash away excess grease, dirt, etc. Check with your local municipality to determine if environmental restrictions apply.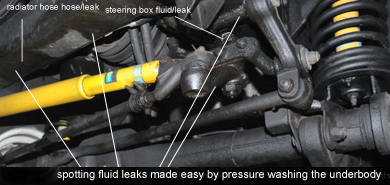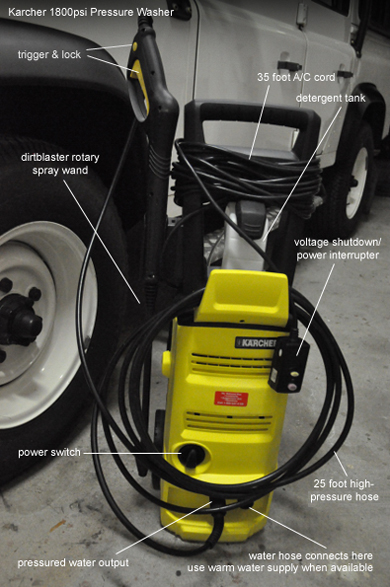 The Karcher 1800 PSI 1.5 GPM electric pressure washer is suitable for a wide range of applications. It is most commonly used to clean concrete, paving, patios, siding roofs, vehicles, you name it. It features complete accessory storage and the on board detergent tank makes cleaning with detergents quick and easy. It makes washing the roof rack and the roof of the Defender a snap. The motor only runs while you spray, reducing noise and power consumption. The DirtBlaster spray wand puts out 1800 PSI of spiral water pressure onto surfaces. For less intense cleaning, use the adjustable Vario Power Spray wand. Simply dial up the amount of pressure you wish to use and twist to the lowest setting to automatically apply detergent.
Specifications: 1800 PSI, 31 lbs. main unit weight, 1.5 gallons per minute, 45 times more powerful than a garden hose, 30 foot power cord with Ground Fault Circuit Interrupter, 20 foot pressure hose, Total stop trigger gun shuts off motor when not spraying, Includes Dirtblaster and Vario Power spray wands, CSA Certified, Dimensions: 23.3H x 12.75W x 15.7D inches, 30 day warranty.