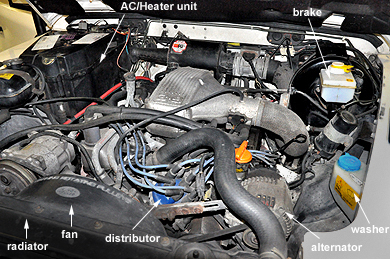 The Rover V8 began life as the Buick 215, an all-aluminium engine introduced for the model in 1961. The compact V8 liter engine was lightweight at 318 lb. As a result, the NAS Defender was powered by a 3.9-liter V8 engine at 182 horsepower, 136KW (SAE gross), fitted with a permanently engaged four wheel drive transmission (LT77S gearbox and LT230-T transfer case).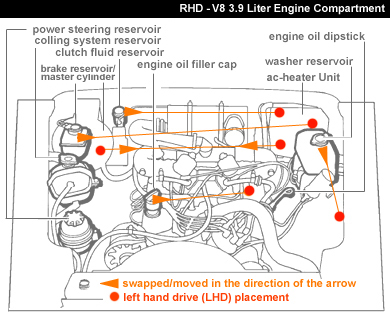 The NAS Defender V8 Electronic Fuel Injected (EFI) engine is an eight cylinder, water cooled unit comprising of cast aluminium cylinder block and cylinder heads. The centrally located camshaft is driven by the crankshaft via an inverted tooth chain. The valves are operated by rockers, pushrods, and hydraulic tappets.
Distributor drive is by skew gear from the front of the camshaft. The aluminium alloy pistons have two compression rings and an oil control ring and are secured to the connecting rods by semi-floating gudgeon pins. The V8 engine serial number is stamped on a cast pad on the cylinder block between numbers 3 and 5 cylinders.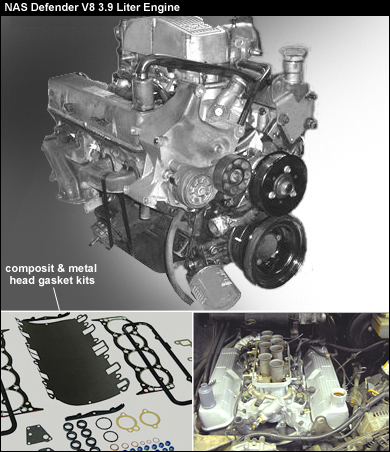 Combined with the low gear ratio LT77S gearbox included on all stock NAS Defender 110's, the NAS 110 lends itself to extraordinary off road usage and versatile utility applications. As a result and due to the high-torque low gear ratio, the engine and drive train are loud and provide a top speed of around 75mph. Not bad, considering the nine-passenger payload capacity of the Defender 110.
Head gasket installation: Today, OEM and other manufacturers are producing upgraded materials to replace those used originally on the Defender 110, consisting of new composite head gaskets and rubber valve cover gaskets, for example. Today's head gaskets are fitted dry, eliminating the need for gasket sealers during installation. After installation and initial warm-up/tune-up, complete final re-torquing of the head is completed. After this step, no further re-torquing is needed. The gasket is now fitted and installation is complete. Rovers North is a good source for OEM and third party head gasket kits. Kits contain all necessary gaskets and seals for cylinder head overhaul. OEM RNV016 steel gasket set 3.9L, OEM/Proline RNM083 fiber gasket set 3.9/4.0/4.2L, and Proline PLM083 fiber gasket set 3.9/4.0/4.2L. See specifications for more information.