If you're going to pull a trailer with your NAS Defender 110 you must have proper lighting in place by law. The source for these auxiliary lights maybe derived from tail lights or any other viable source of clean 12 volt power.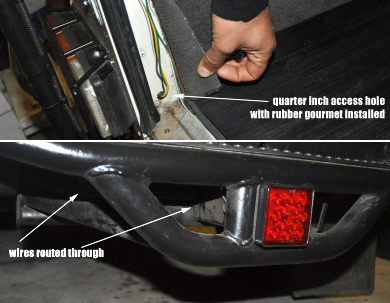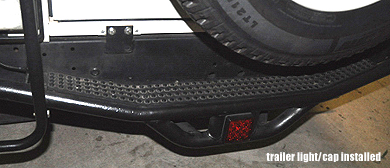 Once the source is identified, the wire route needs be planned. While it is possible to keep all wiring external to the Defender, below, wiring has been routed from inside out, in through the hitch mount and to an auxiliary trailer cover light.
Trailer hitch cover lighting is an easy alternative to adding a removable source of brake light to the lower end of the rear bumper. It adds to visibility and prevents water from getting inside the hitch mount, and the functional end result is aesthetically acceptable.
Hitch cover lighting may be purchase from any major auto part dealer. Choose from LED or light bulb type as suitable. They come pre-wired with harness and connector to attach to standardized trailer wiring. Consider it a small investment that improves your Defender in more ways than one.