As engine oil cooler rubber lines get old, they start to crack. While the aging of oil cooler lines is not a Defender-specific down side, it is, however, of more concern in a Defender than it would be with most other vehicles. Because of their proximity to the exhaust manifold in the Defender, once the oil cooler lines fail, they spray a fine mist of hot oil over the right-side exhaust manifold and other high temperature engine components, at times possibly causing a fire. A lot of service shops familiar with the Defender 110 recommend an oil cooler line upgrade. The upgrade usually consists of stainless steel braided oil lines and improved CNC machined sandwich plate all sold in one kit.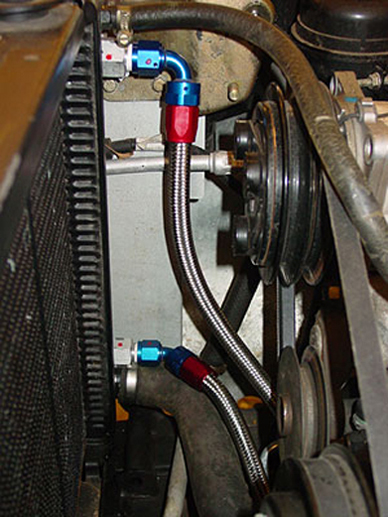 Shown above, couplers and stainless oil cooler lines installed using ERC's stainless oil cooler line upgrade kit--a good investment, especially if you detect wear on your current lines and are planning replacement. Another alternative to ordering a complete kit is to have them made. Simply remove existing lines and have them re-made by your local hydraulic shop.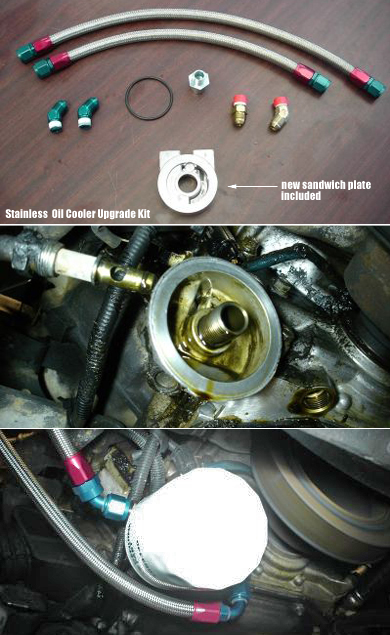 As shown above, oil cooler upgrade kits may include anodized couplers, braided stainless steel oil cooler lines, and machined sandwich plate, by Trail Head 4 x 4. The upgrade sandwich plate replaces the stock plate which is located between oil filter and engine body. The upgrade plate allows improved connection to new couplers and oil lines.