The LT77 was developed through to the suffix H LT 77S and was last used in 1994. An improved version of the LT77S was later introduced, the R380. Automatic gearbox conversions were also made available. Visit Ashcroft Transmission for further information regarding Defender manual or auto transmission parts and services. They are based in the UK and have the expertise to help you with anything differential, gearbox, transfer box related. The last I checked, they ship worldwide. Shown above, a rebuilt LT77S as delivered for install. Refer to LT230-T Transfer box page for more information regarding other transmission components.
Oil recommendation: ATF transmission oil in most cases will do the job. Heavier oils will affect the temperament of the synchomesh in general. ATF Dextron 2/3 is most commonly used for best overall results.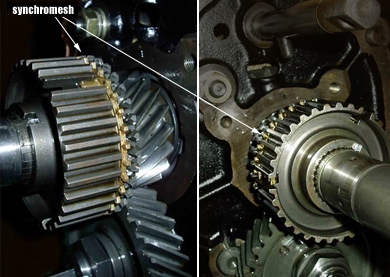 The LT77S is prone to certain common issues, including problems shifting from first to second gear and synchromesh rings slipping on fifth and other gears. See synchromesh engagement close-up pictures shown to the left. In order to reduce the shift and synchro related problems, a number of synchro improvements have been made since the stock introduction, including fitting stronger synchro springs. This makes the baulk ring bite the gear better to stop it from "grinding" into gear. Ashcroft Transmission offers a variety of solutions for your gearbox needs, including master rebuild kits and parts and complete rebuilds.
Should the LT77S in your NAS Defender fail, you will have the option to consider an upgrade to R380 gearbox. The R380 is a newer improved gearbox. It is less noisy and shifts smoother. If you are planning to keep the vehicle, using it as a daily driver or going on an expedition trip where reliability is essential, then this additional expenditure is well worth it. For the serious collector, however, replacing or upgrading the stock LT77S gearbox to an R380 may be somewhat of a compromise. As for the LT77S gearbox, reverse and 5th gear are on opposite sides of your shift lever. See engine, transferbox, and specifications for more information.