The stock Defender 110 NAS 1993 models included the LT77S five speed synchromesh manual gearbox, prone to certain common issues, including problems shifting from first to second gear and syncromesh rings slipping on fifth and other gears, gradually leading to other problems, damaging the main shaft teeth, or grinding LT230 transfer case input shaft teeth, and eventually rendering the vehicle none operable. Today, suppliers such as Ashcroft Transmission offer newly improved sycro rings and other internal upgrades for the LT77S gearbox to help render a stronger unit after rebuilt. That said, by design, the LT77S gearbox falls a short when compared to its later and improved cousin, the R380.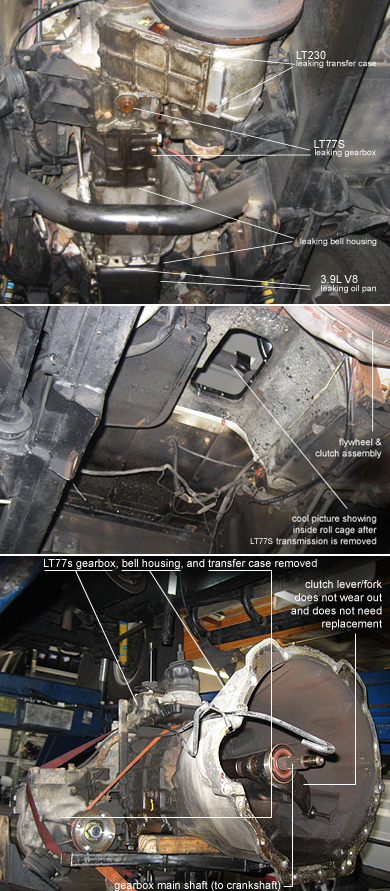 It is for this reason perhaps that one of the most common upgrades on a NAS Defender 110 found today, is the gearbox upgrade from stock LT77S to the improved R380 gearbox (shown below).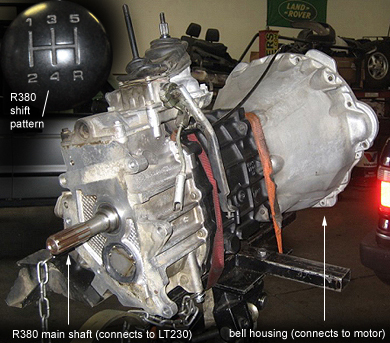 Since rebuilding the LT77S gearbox is labor intensive and parts are not cheap, it maybe worth the modest extra expense to consider an upgrade altogether specially since R380 units are now widely available and can be purchased fully reconditioned, with warranty, and come ready to install - with or without the bell housing. You may also call all the local service shops around, get lucky and find a low mileage R380 sitting around (obtained perhaps from an automatic transmission conversion job). You never know. If you do find a good R380 out of state and plan to purchase it remember that UPS can handle up to 150 Lbs of gross weight. The R380 on a pallet weights about 140 Lbs. Shipping can range between $150 to $250 to/from lower 48 states. Depending on condition and mileage a ready to install R380 can cost anywhere between $900 to $2950.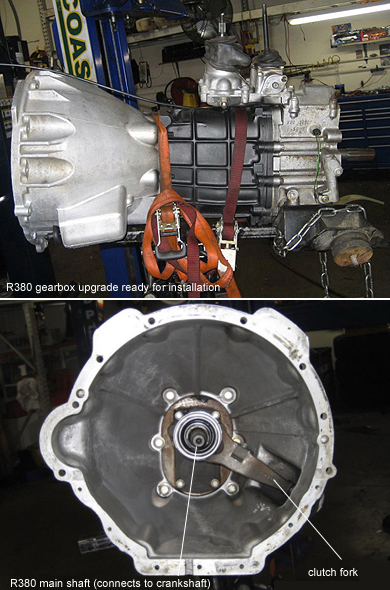 Shown above, R380 with bell housing, ready for installation. Note: the bell housing on the LT77S and R380 are compatible. The clutch lever/fork does not wear so the old LT77S bell housing and fork may be used as parts when upgrading to an R380.

A failing gearbox can cause undue stress onto other drive components, such as the transfer case and crankshaft. Example above shows the inner teeth of the LT230 transfer case input shaft, grinded away as a result of severely damaged LT77 gearbox main shaft teeth (below).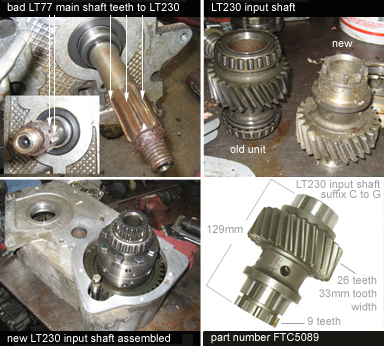 Shown above, post removal inspection shows grinded teeth on the LT77S main shaft. The triangle-shaped teeth once were square. Also shown above, the old and new transfer case input shafts (part# FTC5089) next to one another - also shown assembled onto LT230.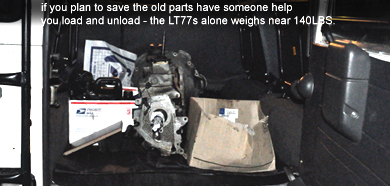 Remember to bring back the old parts. Your original LT77S gearbox serial number matches your Defender's VIN/production number. You can also rebuild the unit now that it is unmounted and easy to work on.