Bad transmission, engine, differential , brakes or hub assembly components can all render your Defender useless. For this reason it is important to properly maintain all the essential parts including those more likely forgotten such as the inner and outer, front and rear hub bearings on your Defender.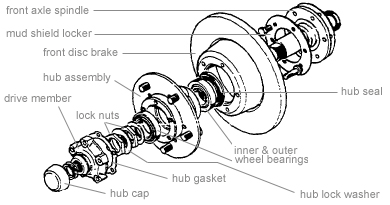 The drawing above shows the main components associated with the hub system on the front axle. Bearings, gaskets, and rubber boots/seals for the front and rear are identical.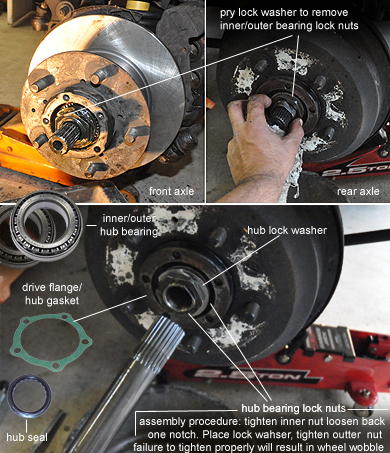 The hub bearings on the Defender are made of heavy duty ball bearing and sleeves to provide years of maintenance-free operation so long as they are greased adequately. If your hub bearing starts making loud squealing noises chances are it running dry and must be packed with grease soon after or the rubber boot/seal protecting the bearings has failed. If driven under such conditions the internal ball bearings will eventually fail creating louder squeals and leading to a disfunctional axle all together.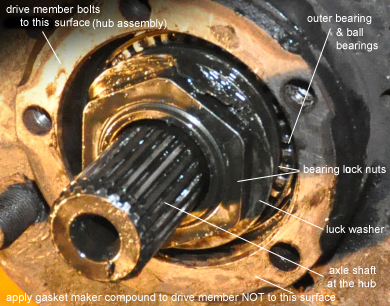 The hub gasket is shown to the left, it is located between the drive member and the hub assembly. Once it starts cracking you will see signs of splattered grease on the rim of the wheel affected by it. This indicates that while driving, centrifugal force is leading the grease out from the seal and therefore sucking the grease out of the bearings. Genuine and aftermarket replacement gaskets, seals, bearings are individually available through RoversNorth and other vendors. You can also purchase a kit including all that is needed to rebuild each hub. It is not necessary to replace a hub bearing(s) so long as the problem is detected early. Disassemble the hub, retrieve both the inner and outer bearings.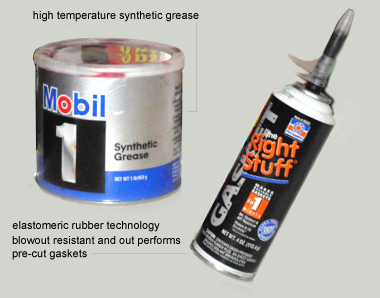 Examine the bearings and the rubber seals carefully. If there are no obvious signs of damage, clean the bearings using a dry towel, pack them with grease and reinstall them, make each bearing and hub seal is seated properly in place. Install new hub (drive member) gasket or make one using a gasket maker compound. Torque drive member bolts to 65 foot lb each.
The Right Stuff (shown above) instantly makes gaskets that are more reliable and longer lasting than cut gaskets, and at a fraction of the cost. This elastomeric rubber technology is blowout resistant and protects against leaks caused by vibration and thermal expansion.