As the saying goes, the right tools make all the difference. Have you tried to unscrew a screw using a knife or a dime? Is it possible to replace the front shocks and coil springs on a Defender without using a lift or stand or vise grip? Sure - nothing a few pieces of 2 x 4 studs and a hammer won't fix. However, if you want the best results, then the right tools and parts are necessary.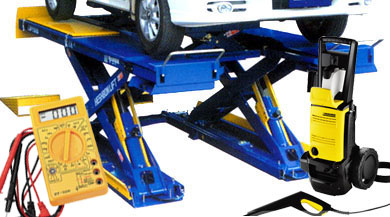 There are some constraints when it comes to considering the right tools. Some tools simply won't fit while some are not even allowed in residential areas (especially here in southern California). While a 10,000 lbs capacity hydraulic can fit most residential garages, it cannot be put to use if you own a 90" (7.5') tall vehicle, such as the Defender (with stock rack). Meanwhile, a garage with a 14' high ceiling may easily allow a six foot lift for your Defender providing easy access to all drive terrain components (i.e., lower parts of the engine, the gearbox, transfer case, exhaust system, brake lines, and other underbody components as needed.
Suggested essential tools: Whatever tool you choose has to meet safety and noise abetment standards as set by your local municipality. If you have a few acres between you and your neighbor, then your options are wide open. That said, here are a few suggestions:
One bolted 4-10 ton hydraulic lift with industrial capacity shop air compressor. If that is not a practical option for you, then purchase one portable 2.5 ton lift--the heaviest you can find--and four 3-6 ton jack stands for underbody projects. A 5-gallon 125psi shop compressor would do. Get a tank exceeding 5 gallons up to as much you can to eliminate interruptions. Whatever size compressor you choose, make sure it has a regulator assembly to maximize compressor, tank, and air tool life span. Air compressors can be used to power tools, inflate tires, and clean the shop. Like any tool, air compressors require special safety precautions.
Other essential tools include a full set of metric and standard size hand tools, air tools such as an impact wrench, vise grips, automotive hammer, bearing separators/pullers, pliers, screw driver sets, hex sets, a torque wrench, a low profile creeper with metal casters, a tool chest, wire cutters, cable pliers, a multi-function voltmeter, a compression gauge, high pressure washer, other applicable measuring tools, and any other tool intended for the specific project at hand. Tools and vendors are plenty, here in southern California Harbor Freight carries a large selection of good and affordable tools and supplies.
Essential supplies may consist of 14-20 gauge wires, connectors, adapters, extra relays, fuses, tape, lubricant/oils/coolant/grease, hand cleaners, shop towels, wing mats, car wash material, epoxy and CA glue, body/upholstery repair supplies, portable work lamp, safety goggles, and gloves. Also See online automotive tools.